Dec 13, 1999 - Dec 12, 2005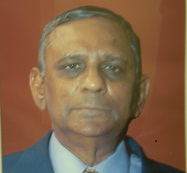 Mr. Addison M. Khan has over 45 years experience in industrial relations and industrial relations law. He was a former Assistant Legal Adviser of Texaco Trinidad, Inc. He appeared as an advocate in labour and employment cases in the Industrial Court of Trinidad and Tobago.
He became a member of the Industrial Court on November 1st, 1986 where he served for six years before becoming Vice President in 1993. He remained Vice President for a further seven years before being appointed as President in December of 1999. He remained President until his retirement six years later in 2005. Mr. Khan, who was also an elder in the Presbyterian Church, held a Masters of Arts degree in Law. In 2010, Khan was appointed a member of the PSC to serve for three years. In 2013, he was reappointed to the PSC to serve another three years.
He wrote two books on labour law, entitled: "The law of labour and Industrial disputes in Trinidad and Tobago", and, "A guide to occupational safety and Health Acts 2004-2006 of Trinidad and Tobago." At the time of his death, 9 September 2015, he was working on the publication of yet another book, "The Law of Redundancy of Workers in Trinidad and Tobago."